Ever since Gmail launched its Gmail Lab, I have been its fan. Some of its features are so awesome I use them day in and day out. Mentioned below are my favourite lab features:
1. Go to Label
If I were asked to pick one best lab feature from all of them, this would be it. I have set up filters extensively to mark labels to most of my emails. I'm also a keyboard shortcut junkie & expect web apps to have keyboard shortcuts. Retrieving emails based on a given label had never been this easier. Just type 'g' followed by 'l'. A small dialog opens and offers suggestions as you type the label names. This is an awesome feature that saves loads of scrolling and clicking.
This is an Excellent lab feature that was announced yesterday. I have enabled it and searching mail using its operators has been made very easy. This also offers suggestions from your contacts as you type. For each letter that you type, if there's an available search operator, it lists that as well; neatly separating the operators from the contacts with a black line.
3. Tasks
Less is more. This tasks features offers very little features, almost mimicking it to a paper to-do list. Just list the tasks and strike them as you are done with it. There are of course some advanced features tucked in. But they don't appear at first sight. This is a well executed Labs Feature. There are times when you do not need a full blown task manager & this feature comes in handy. I hope they bring this feature to their gmail mobile app.
4. Youtube, Picasa, Flickr Previews
Recently, I have been trekking/touring a lot. People from the trekking gang send emails with links to Picasa/Flickr albums. They also add youtube video links to the email because there's no way to actually embed a video inside an email. With this labs feature, I'm able to enjoy all the related photos/videos in one place. Really cool.
5. Quick Links
This is one awesome feature. Many months ago, I posted a question on a mailing list asking for suggestions for buying wireless routers. After a week since the discussion, I was searching high and low for that email but couldn't find it. Lots of people had given valuable suggestions and how can I lose them all? As soon as I found the email, I activated this quick links feature and clicked on "Add Quick Link" button in its dialog box. Voila! Now I can reach this email directly with a mouse click. 
There are also times when I search for "in:inbox is:unread". This search operator retrieves all mails in your inbox that have not been read yet. I didn't want to type this operator every time to check for unread messages that are buried somewhere. I just added a Quick Link for this operator and now its just a click away. Happy times!
What are your favourite Gmail Lab features? Let me know in the comments.
Today morning I logged in to Gmail and was pleasently surprised to see a yellow information announcing Themes in Gmail. Looks like Google is enabling themes on a step by step basis for everyone. If themes have been enabled in your account, go to this link.
This is how the themes UI looks like. Click on the image for a bigger view. Has it been enabled for you?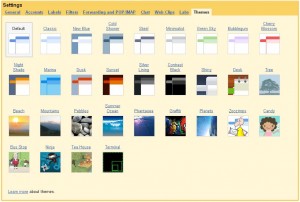 Hi guys, just discovered that one of my blog posts is link #1 on a common Google search query regarding netbeans and S60 emulators.
View the query results. Here's the screen shot.