See! I'm flying. It happens after every trek that I go to; whether small or large. Being in one with nature can rejuvenize you so much that you will be in that state of mind for a few weeks to come 🙂
Ombattu Gudde or Ombattu Gudda or OG, as its fondly called, is one terrific place that's about 6 hours from Bangalore. So… on 14th Nov 2009, 36 of us, all pumped up and excited about the next 48 hours decided to explore this place and reach the peak of OG. The peak is at a height of 968m from Mean Sea Level. The trek would put us through too many terrains in quick succession that it's as if nature was changing boulders like we change t-shirts after a day's work.
Day 1 – 14 Nov 2009 – The Leech Challenge
The trail started besides the picture postcard house below. We were to walk for about 10 kms before we would hit the first stream. The locals warned us of leeches. Few braved the leeches and decided to march right ahead. But since I had been carrying snuff powder and oil for the gang, a few us who chose to heed those words, applied it to our calves, shin and feet. Whatever was stuck in our palms were applied to the arms. In a short while, we were all covered from our legs down in thick black & smelly snuff powder mixture that's supposed to keep out leeches.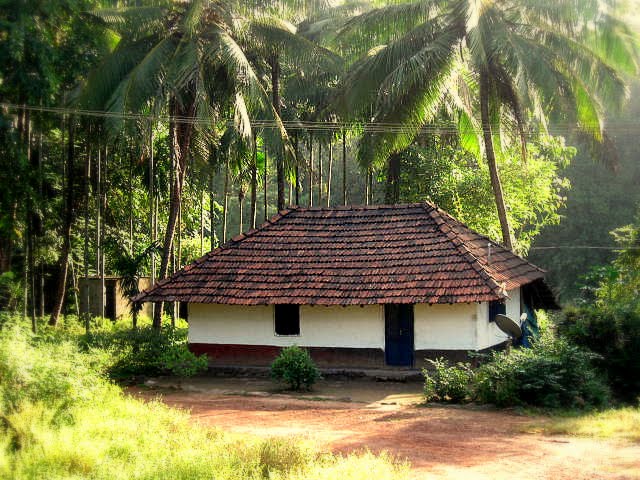 Few minutes in to the trail, we knew what the locals had told about. There were leeches everywhere, though they were very small ones. Some people in our trek (notably Prashanth) told that to encounter actual leeches, we should go there sometime around monsoon where the treks are to primarily get wet to the bone in those relentless rains and fight leeches 😀 . Should be fun! Those leeches cling to whatever they can and slowly move up towards the shin. If not noticed, they would keep moving upwards & before long, they will be in your innerwear 🙂 and you will have fun! Few leeches did manage to get there for a few people (I wasn't one among them, in case you were wondering!) and we could literally imagine the leeches committing suicide 😉
After walking an awesome 6 km stretch, covered with dense forest on both sides, we reached a tiny stream. By this time, there were about 10 tiny leeches on my sandals despite me plucking them off every so often. Those who were wearing shoes were even worse. Some of them had climbed through the socks and were happily sucking blood through the socks. To ward leeches off our sandals and shoes, we created the mixture of snuff powder and mustard oil and applied it once more. Now, even though leeches got on to us, they were put off by the smell of snuff powder. We could then easily pluck them off our skins and drop them elsewhere. We were just 4 kms away from the bigger stream along the trail.
The Big Stream and Games
Nothing excites one more than the sight and sound of rushing water in dense forest. As soon as we saw this really wide stream, we dropped our bags and jumped right in. The water was shallow in many places, which meant it would be unlimited fun for quite some time in that stream. Almost everyone had leech wounds. The blood wouldn't clot and it would keep dripping even after washing them. In case you were wondering, leeches make a very tiny hole to extract blood. At max, you would lose around 10-20 ml of blood by end of day after all the leech bites put together.
At one place in the stream, water was neck deep & you know what we did 😀 . We jumped right in and few people tried diving head first. Many were busy washing their skin of the snuff powder and applying a fresh coating. After having breakfast at this place, it was time to move on. We had a long way to go.
Before Ravi Ghosh and Claudy could set the route to take, few enthu dudes raced ahead and climbed a hill, only to find that it wasn't the route to take. We marched ahead taking in the sight, sounds and fresh air of the forest around us. We were following the big stream now. Fresh elephant shit was everywhere. The stream was gurgling along its course and at times, it would rush as if it wanted to reach its destination soon.
Cascade Stream and More Diving
After walking for an hour or so, we reached another nice water point along the stream which was dotted with tiny cascading waterfalls. This place is still in front of my eyes. There was a good amount of place between each level in the cascade and there was a shallow pool at the top of the cascade. The cascade ended in a splendid inclined pool which was about 6 foot wide but was pretty deep. We climbed down the rocks and jumped in this.
Water currents were pretty strong here and as soon as we surfaced after the jump/dive, the current would push us along the stream downwards. Vipin effectively challenged the current and swam against it to reach the bottom of the cascade. After bathing here to our hearts content, we started on our way and were following the stream upwards.
Snake Encounter 1 – Malabar Pit Viper
At a certain point, we had to cross the stream and hop in to thick forests where there were no trail at all. We hacked in to the forest with a big knife that doubled up as an axe. Cutting creepers and moving branches aside, we were able to make our way. As soon as we set foot on damp rocks and soil, leeches started chasing us. Most of us were running to prevent those leeches from getting on us. At some places, when we had to stop to hack creepers etc., we would keep shaking our feet so that they don't latch on.
Besides the stream on a cool moss covered rock, under the plentiful shade of an unknown tree, a viper was beautifully snoring. He was about 2 feet long, pretty thin but with a fat stomach and a head that was big for his size. Recognizing that there was some disturbance in his environment, it looked like he opened his eyes and put his forked black tongue out. Photographers were ecstatic to the point that some even squealed 😉 . He had a pit in between his eyes and had his scales like that of a saw. He was venomous. I didn't venture too close because he was already coiled and photos were being clicked from a hopefully safe distance.
Soon, the climb on the forest ended in about 30 minutes and we found ourselves at the stream again. This time the water was knee deep and we had to wade through it. Some preferred to follow the forest by hopping on boulders but since I'm a fan of water bodies, I preferred to wade through it. At a point, the level was just below my waist. Chill water splashing my body was a fantastic feeling. Spirits soared to unknown levels and before long it had to end for another detour in to the dense jungle.
Steep Climbs & Snake Encounter 2 – Another Viper
By now, the climb was steep. The hill would have been about 50 degrees and we navigated a small distance by holding creepers and roots. Soon, for the rest of the day, this kind of steep climb became pretty common. It would be a very common sight to see people crawling on all fours.
Down one such steep climb, we came to a part of the stream where the water was waist deep. As were walking through, we found a another snake beautifully camouflaged in the rocks. He was almost the length of the earlier viper and seemed to be a member of the viper family because of this huge head and that pit between his eyes. He was coiled too. This guy didn't wake up seeing us but was blissfully sleeping besides all the commotion. How many of us get this kind of sleep in our day to day lives? 😉
Then it was yet another steep climb in the wilderness and it was beginning to get dark. It was only 5.30 PM but the darkness was falling soon very quickly. At this point, we had to climb down a 5 feet rock and cross a small raging stream (with strong currents) to climb another hill where we were supposed to camp for the night. By the time the whole gang climbed down the rock and crossed the stream, it was pitch dark and time for the head lamps and torches to make their appearance.
Camp Site
It was a wonderful campsite. The platform was slightly inclined and it was sandwiched between raging streams on both sides. Tall trees covered our place and there were high rocks all around which we used for drying our clothes. The raging stream drove Ajay to meditate on a rock above the stream for a few minutes. Some of us then collected a few small branches and started sweeping the whole place so that leeches and insects, if any, could be removed. After sweeping the place clean, we were surpirsed to see a medium sized rock in the middle. Placing 3 more rocks to its left, center and right, a two burner stove was ready to be used for cooking dinner.
Six people unwrapped the sleeping mats and started cutting the vegetables in small ones. Carrots, onions and potatoes were chuck-chuck-chuck'd into small pieces. Three pots were filled with crystal clear water. Another team disappeared to find dried wood for the kitchen. Before long, we had a small fire going. A pot of water was placed on it and 9 packets of soup mixture was poured in to it and stirred continuously by Ravi while Vipin and Sai were doing a great job in keeping the fire going. Before long, piping hot soup was ready and we all devoured it hungrily after a day's trek.
Naveen took the turn now to create delicious curry to be mixed with aval. With ghee, groundnuts, spices and vegetables in the pot, they were stirred continuously for about 30 minutes before they got cooked. Aval was soaked in water and it was ready by this time. The curry+aval mixture tasted delicious and beyond compare to anything we had ever eaten in forest. Fresh from the hand-made kitchen, this team work was worth the effort. All pains and leech bites encountered during the day vanished when the taste of delicious curry kissed the tongue. It was as if you lived to get to this moment! An AHA moment!
Three of us ventured in to the stream and had a bath at this ungodly hour (9 PM) in the forest. The chill water was soothing and had an amazing calming effect after the cooking drama 😀 I loved every moment of it.
Lord Varuna
By the time we were finishing with dinner, it started raining. First in drizzles and then it really started pouring. We were carrying tarpaulin sheets with us. Immediately getting the ropes and knives out, we tied ends to those majestic trees and then put our heads to rest.
It was a quiet moment now. There was a constant drone of a distant cricket alongside the rushing streams soothing the ears. With such a delicate moment, I fell asleep … and wandered in to dreamland …
… only to be woken up suddenly because the rains got very heavy and part of the tent gave away and poured ice cold water on my feet. I made some adjustments to catch the run away water with the empty cooking pots. That worked but the place near my leg was wet. Sagar had an ant hill under his feet which became active after the water fell on it. Vinod, who was behind us, snored loudly enough to attract elephants. Suddenly all delicate moments vanished and myself and Sagar were trying to sleep by counting sheep.
Rain had stopped by morning. The tent that we had hurriedly laid during the night was worthy of applause 😀 34 people were able to sleep peacefully (I hope). Clicking a few snaps of the tent, a few of us rushed to the streams to gape at their beauty in the blissful morning.
Day 2 – 15 Nov 2009 – Bath in Streams
Following rains from the previous night, streams were gushing than ever at a furious pace. In the center of the stream, there was a beautiful tiny waterfall which fed a 4 feet deep pool. We climbed there and enjoyed the place for more than 45 minutes. Then we headed back to the camp site to find Vinod was brewing fresh tea. Yay!
Then we headed to the other side. Remember that our camp site was surrounded by two streams. We looked at the place where we had a cold bath the previous night & jumped there. The small pool was overflowing in to a waterfall and we got under it too. By this time the tea was ready and Shivi got us some tea so that we could enjoy it in the pool 😀 … you should try this some time. Chest deep in water and resting on a rock, eat a juicy pear or drink hot tea. Its an orgasmic feeling.
Poonam wanted to take some snaps of Ajay meditating on the rocks. When she got ready with the camera, three of us would sneak behind the rock where Ajay was sitting and at a count of three, we would jump up spoiling the shot 😀 hehe…
The Steep Climb for 3 Hours
Back at the camp site and gulping down 2 cups of nice tea & applying snuff oil mix to our hands and feet, we started on our way to conquer Ombattu Gudde. Climbing down to the stream, we crossed it and stood at the base of huge hill. By this time, we were creating our own trail through the forest. There were some existing trails on the GPS device and on the hills but we chose not to use them and picked a different hill to lead us to OG, to which's base were we.
Do you remember the landmine hill I mentioned during the Venkateswara trek before? This hill was many times bigger and filled with boulders which would fall off when even an ant crawled on it. However, trees were very strong and their roots were even stronger. Jumping from tree to tree and holding on roots, we made it to a height of 629m nearly non-stop; except for a brief stop at a water point which was presumably the last water point for the day.
Grasslands
From the height of 629m, the peak of OG was visible. OG was towering at 300+m more than the place we were in. A quick stop at this place and few snaps later we moved on. At a point, we were heading towards a valley connecting us to the OG hill. Encountering another patch of dense forest with a little of our leech friends, we literally burst in to the open grasslands at about 680m. They were breathtaking. So huge and majestic that you could see for miles ahead and around. Clouds were dancing atop other peaks creating even more breathtaking views.
On the way to the grasslands, we identified a few birds. Green bee eater and kestrel were a few (courtesy Sagar). He was able to identify a lot more.
Sun was playing hide and seek between the hills and the clouds. It looked like a storm was brewing because there were black clouds on the horizon. Many of us (and photographers) decided to take in the beauty slowly and stopped running. Step by step, capturing nature in its entirity we moved ahead. At a certain point, for about 20 minutes I climbed absolutely alone. Of course people were visible below and above me. Since there were no obstructions like trees in the middle, they would hear me if I called. The climb up alone was energizing. At such a height, it was silence more than anything else. Silence and stillness seemed to have more life than us. It was overwhelming. Then I sat down among the grass and enjoyed the silence for some more time until the gang below joined me. Then we ran to the top 😀
We celebrated in wave after wave of photographs, jumps etc. It was exciting. WE MADE IT TO THE PEAK!!
By this time, clouds were moving through us and made our hair damp. This was the first time I was experiencing it. Lot of new experiences this time. Lots! From this peak of OG, we could see the jeep trail on the distant hill, to which we had to reach. It was another hour or two's trek before we could get there. It started to get dark now.
Walkable Trail and Jeep Track
Climbing up and down peaks lower than OG we reached a patch of dense forest which we believed would lead to the jeep track. The map we were carrying said that there was a clear walkable patch which would lead to the jeep track. But we couldn't find the patch at all. We tried hacking through. But it was just too thick and unrelenting. Finally we slowly moved around the dense vegetation to try our luck on other sides.
At a precise location, Guna went in the patch to try his hand. Beyond a few metres, there was a clear 1-man trail (othai adi padhai in tamil) beneth the forest cover and no doubt wasn't visible at all. Hailing Guna, we walked on it for about 30 minutes before hitting the jeep trail. At many places, the jeep trail was fairly steep and we hit the 1000m mark on it 🙂 Surprising as it was, clouds were moving through us at this height and above them stars shone brightly for a brief period. I was able to identify the Southern Cross constellation. Orion was missing. Lightning started with the clouds and mountains, showing spectacular displays of might and power.
Bridge & Dinner
We walked on this track for more than 2 hours, passing through the edge of the forest and then through some estates and then to tarred road. We all rejoiced of having made in and out of this place safely with no big physical injuries except the leech bites which are supposed to itch after couple of days. A small stream was flowing below this bridge and our bus hadn't arrived yet. Quickly we realized how smelly all of us were and got down to get wet immediatley.
Changed into warm clothes as soon as the bus arrived and immediately got a power nap until the bus stopped for dinner. Vijay did a great job of taking up the orders and making sure they arrived on time while myself and Ravi were calculating the costs.
The End
A terrific trek had come to an end. I just couldn't imagine that Ombattu Gudde had so much to offer. It had plenty of active wildlife and gave very good challenges to each and every trekker to this place. Have to go back to this place sometime again!
Photo Albums
What's a trek without photographers? Have a look at the albums and kick yourself for not coming 🙂
See you soon buddies! Hope you had a nice time reading about this experience.