I recently installed the Ice-cream sandwich flavour of the Ehndroix mod. After hours of scouring the web & bricking my phone multiple times in the process, ICS is up and running on my phone. I'm documenting the exact process here so that it will be useful for everyone.
This post applies only for Samsung Galaxy S Plus GT-I9001. These steps might not work on any other phone. Even, if you are on I9001 phone, proceed at your own risk. No one (including me & God) is responsible if anything happens to you or your phone 😉
Assuming you are running the stock Gingerbread Android OS, here are the steps:
Get all the required software
Enable development mode on your phone
Backup all your existing data
Root your phone
Install ClockworkMod Recovery 5.5.0.4
Reboot your phone in recovery mode
Install Ehndroix
Install S3 style pack
Reboot your phone
Kuzzampo[1] everyone! 😉
The recent trip to Bhutan was amazing beyond measure. When Sudar called me one fine morning and said "Bhutan", I immediately started dreaming about The Land of the Thundering Dragons. I had heard plenty of stories about Bhutan and my legs were itching to get there. Through every minute of the trip, we met fantastic people, came across rushing rivers, crossed 3 high mountain passes, beautiful roads, native culture and festivals, cheerful monks, spicy food and everything in between. At most places, life had come to a complete standstill. No one seemed to be in a hurry and everything seemed to move at a comfortable steady pace. We were constantly overcome by the kindness shown by the people from The Land of Thundering Dragons; whether be it the grocer lady who graciously offered us peaches for free or the cabbie or the owner of a big hotel; compassion was part of them. Almost all the places were very clean and rivers were clean even when they flowed through towns. Plenty of houses had the painting of a phallus on their exterior walls to symbolize fertility 😉 . 
Weather was perfect with just the right amount of sun on most days. Travel was an absolute pleasure. Every morning I got up, I would be in anticipation of what I would experience that day. Would it be the fabulous people or spicy food or hidden waterfalls in every corner or those beautiful chortens with prayer flags fluttering or playful kids or monks? Who knows? Bhutan has a surprised stored in its every corner … waiting for us to discover them.
Today is a special day. Guess why?
On this day, last year (23-Jul-2011), I summitted Stok Kangri. It is the only trekkable 6000+m peak that I know of. Today am going to share couple of special moments during the trek.
We started from the base camp at 12 AM sharp in bone freezing cold, packed in 4 layers of clothing. Energy was at its highest for me. This was the day I was waiting for ever since I signed up for the trek. Days and days of swimming, trekking and other endurance activities were just about to pay off. I could visualize myself standing on the peak and gazing with awe at the beauty of Mother Nature, in the form of undulating peaks of the Karakoram range. With the barest of the bare essentials, we began our march.
Around 3 AM we stepped foot on a massive snow field. The milky way had opened up above us throughout the night. If not for the cold & lack of tripod, I would have setup camp and shot the stars to my heart's content. By 4 AM we were at the mountain's base. Right above us, piercing the night sky in all its glorious beauty stood Stok Kangri. My throat choked. I'm eternally grateful to the mountain for allowing me, a mere mortal, to set foot on her.
Sunrise
Around 4.40 AM, we came to a place where we had to cross an icy patch that was covered with snow. As we were wearing our crampons, the best sight of my life unfolded on the east. The eastern horizon had a thin streak of gold. So subtly thin that it took special effort to notice it properly. Few minutes later, few more streaks joined the show… and then an entire range opened up.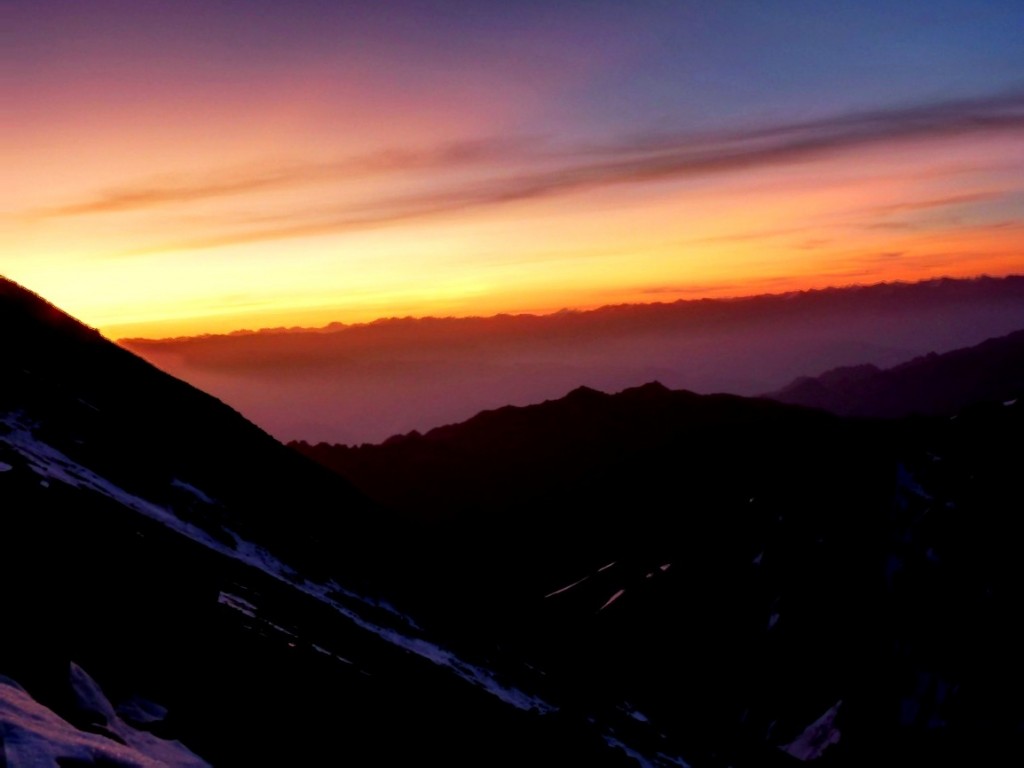 Nature had seduced me completely. For those few minutes, passage of time stopped. Every little cell in my body was completely alive. Transfixed. Jaw dropping. The best part? It looked like the sun was rising from below us. First showing its few rays, then moving horizontally, sliding out of the mountain & then rising vertically … as it consumed its golden rays again.
Every particle of snow and ice in our surroundings glistened as if they were covered in gold. The various views were mind-boggling to say the least. Nature was displaying the best drama that I could possibly see and remember for a very long time to come. The mountain next to ours looked so much like a gold mountain that the photo below doesn't do any justice.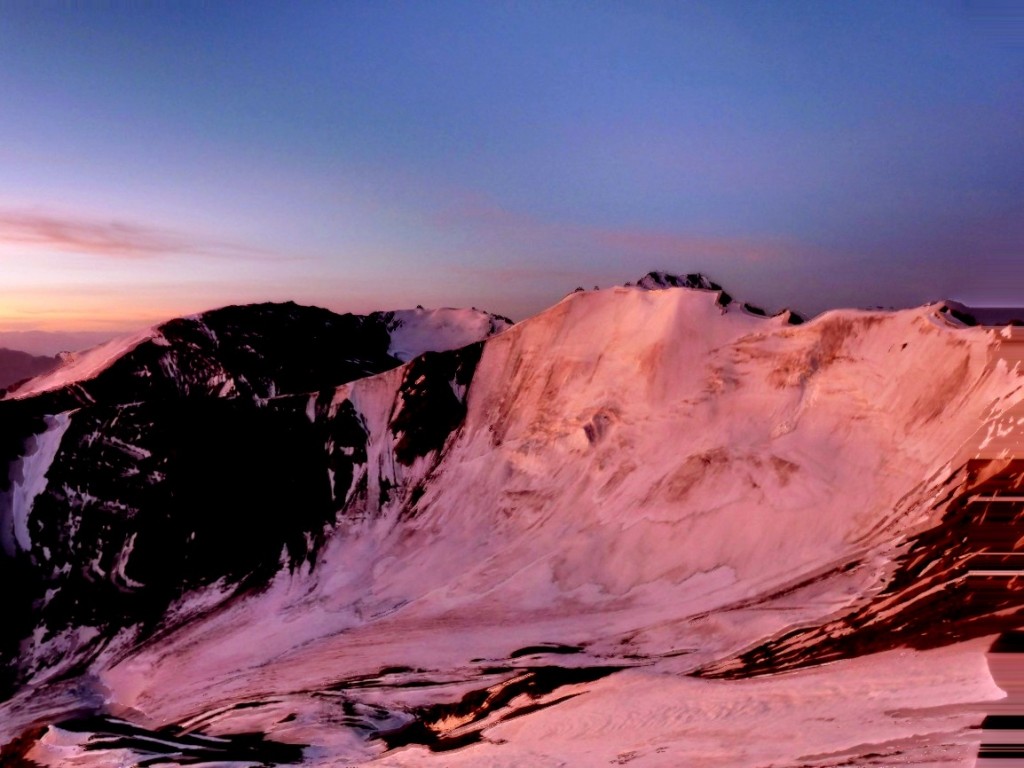 Clear blue skies were our friends that day. Impeccable weather.
Special Moment on The Peak
Three hours later, I was on the peak. The fastest ones on the trek were turning back. I met them on the way. The slower ones were significantly behind. For approximately 10 complete minutes, the summit was mine. I couldn't take a photo of myself. So, I waited for people to turn up. The wind ruffled my hair. There was absolute silence on the top. The couple of months that led to the trek whizzed past. At 20,000+ feet, it was a thrilling place to be. On the far east, many miles away, Leh was visible like a dot. On the far North West, our guide showed the savage mountain, K2. On the South, Khardung La (the highest motorable pass in the world) was there. Best of all, a flight passed below me. As I sat next to the prayer flags, I dozed off for a few minutes until my guide came to the top and woke me up 😀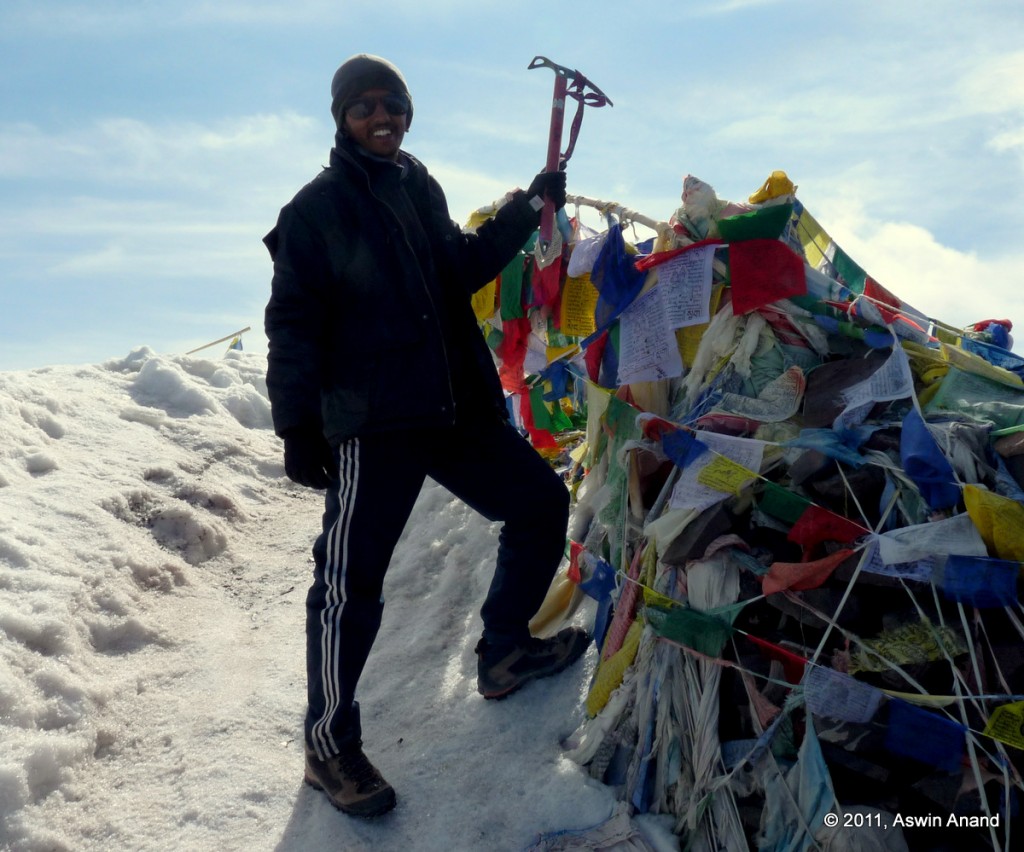 It was lovely. I posed like Tenzing Norgay on summit cornice. What a moment that was!
View from the Peak
Here's a panorama from the summit of Stok Kangri, on a day when the weather was impeccable, when I was in the best of my spirits & when everything in the universe came together to support me.