Trekking is addictive. Not because its fun to climb hills and mountains, but because every time you are done with a challenge, Nature gets back at you with a tougher one 🙂 .
Last trek to Nagalapuram was super fun & challenging. But the only downside was that it all happened too fast and in compressed time. Adrenalin was rushing throughout & before long we were back home. Time flew by. Adventure never ceased until the time we were there. This time though, I wanted to take it more slowly. I wanted to enjoy Nature in all its natural beauty, get soaked in the forest, tune my senses to the smells, sights and sounds of the forest and soothe my aching body in the natural waters.
Arvindh, my Kalari buddy, who accompanied me was gung-ho when I told him what I had in mind for this trek. The actual trek itself wouldn't be that challenging or tough but surely at the end of it, the mind will be completely relaxed and refreshed; the way that cannot ever happen in the busy city life. And so we started. By 7.30 AM we were at the base of the pristine Nagala jungles, ready for our mind to get relaxed and get recharged. Two mongrels started following us as soon we started into the forest.
The Walk
As we were walking through the foliage, the dogs stopped and started barking wildly to something to our right side. We froze on our tracks. We weren't even quarter way in to the jungles. We turned to our sides and didn't see anything fishy. We continued to walk with the dogs barking. After sometime they stopped. Then we heard it. The sound was like a growl. A light one. Then it became heavier; then lighter and similarly oscillating. Suddenly we realized it could be the sound of the wind that were passing through the trees. This growling sound accompanied us for another 30 minutes or so. We picked up 2 reasonably big sticks & proceeded on our way.
We crossed a stream first and hopped on to the first small hill. On that hill, there were some orange markings and we followed them … which led to a dead end. We didn't know what to do or which route to take. There was a bigger stream to our right side and dense jungle on our left. Either way, there was no clear trail that was visible. Since both of us were on our own, we didn't bother much and started exploring the area. First we went to our right. The stream's width would be around 10 feet. But since the water was shallow, we were able to cross it easily. After crossing to the other side, there was partially dense foliage through which we had to cut through. For sure, this wasn't the way we had taken during the previous trek. So we walked back to the same dead end. This time, we decided to move to the left side from the dead end.
The dogs had left us by now. It was just myself and Arvindh in the jungles with absolutely no one around. There was only a light wind blowing and Sun was shining. The foliage to our left was thicker. Water was flowing down the hill in a very tiny stream. We decided to walk along the stream and did so for about 15 minutes. Along the way, we noticed some toads and huge spider webs. No route there, we headed back to the same place 🙂 & had some fruits. Aaahh! The fruit was never ever this tasty before.
The Fishes
We decided to retrace our steps and go back to the top of the hill from where we descended to this place. En route to the hill, the trail split in to two, in the form of the 'Y'. We decided to take the other path. It was going downhill and not sure as to where it would lead us. Surprisingly, it lead us to an amazing pool. Quickly, putting 2 and 2 together, we realized that the stream described above was the same one coming here & that all along, we were following the stream, albeit along the jungle path. We quickly undressed in to our trunks and jumped in.
The water was cold and the initial contact sent a chill up my back, forming goose bumps on my neck, arms and thighs. As we waded in the water, the bodies got used to the chill and we were able to enjoy the cold water. At about chest deep in to the water, we noticed an awesome rock formation. It was about 7 foot long and about 3 foot wide, slightly inclined…. inclined such that, if you lie down on the rock, all of your body will be under water except your head 🙂 . It was fun! I lied down there for sometime, closed my eyes and forgot the world. Tiny fishes started pecking my feet and hands, removing whatever dirt that may have got there. They slowly moved upwards and started cleaning the shoulders and my back. I was getting a tickling sensation. I was enjoying it thoroughly. Few minutes later, we got out of the pool, dried ourselves and headed back to the same dead end.
Food
By this time we were ravenous. Arvindh had brought some delicious bakery bread and dates fruit syrup. Together, it was a heavenly combination. We also had some juicy pears which found its rightful place in our stomach in no time. Done with lunch, we explored some more along to our right, crossing the stream again.
This time, we were determined to go more in to the path. We had two big sticks and a knife to cut through the foliage. At points where there were lot of creepers blocking our way, we would simply swish-swash and they would be gone. We continued like this non-stop for about 30 minutes, without talking or making any sound. We were extremely busy in finding our path. At a certain point I stopped because the foliage was too thick to cut through. There was not enough place to move also. So we decided to rest in that place for sometime and then head back. Sunlight was scanty here. There was a beautiful green pool to our left. A huge one and visibly of great depth. If you are wondering, we didn't enter this one.
We started back on our path and came to the same dead end. Suddenly, it was like we broke out of a trance and realized this walk in to the thick foliage was the best ever walk we ever had in our life so far. We were quiet, our breathing sounds took over. Our mind was totally tuned to Nature. Senses got sharpened. We could capture every tiny move in the foliage; so carefully that we moved aside to allow a chameleon or two to cross us without being suspicious of us. This walk refreshed us like anything & it was simply beyond words.
The Meditation Pool
We reached the same pool again. This time, after playing in the water for sometime, we thought of meditating. I sat on the same rock where I had lied down earlier, moved my legs into the posture of Padmasana and closed my eyes, my palm facing the skies & resting on my thighs. Within minutes, a bright white light engulfed me and it felt as if I was in dream land. Just imagine this. Sitting on the rocks, with part of my body in the water and torso above the water; fishes pecking at your feet, a small smooth waterfall flowing on the right side, filling the pool with a gurgling sound … a few birds chirping and a bell clinking, of a cow grazing in the distance. Aaaaahhh!! Heavenly! … The white light was engulfing me in waves and I was totally lost into wonderland. After some time, I opened my eyes. Everything seemed brighter and different. This few minutes in my life was awesome. Nature's energy was flowing through me in its purest form and I enjoyed every moment of it, giving back what I had received.
Sitting neck deep in water, we had some more fruits. Fruits were juicier than ever and we devoured them.
And then it was 3 PM. We got out of the pool, clicked some snaps of us and then got on our way to home sweet home.
What a day it was! Not at all tiring .. it was just the opposite. Totally Energizing!
Hey all,
Its been about 4 months since the conversation lister tool for twitter was implemented. I'm not sure how many of you are using it but then I have surely had many funny moments reading whole conversations with it. Those who have been following me on twitter would have surely gone through some of those funny conversations. Here are some of those conversations for you to relish.
Today is Moyeen's birthday. So this blog post is dedicated to him.
@Jaggy is a good friend of mine. He's on twitter pretty much all the time & sometimes he gets ragged 🙂 causing many of us to laugh. Here is one such conversation featuring our dear Jaggy getting torn apart by @procoder. Screenshot below: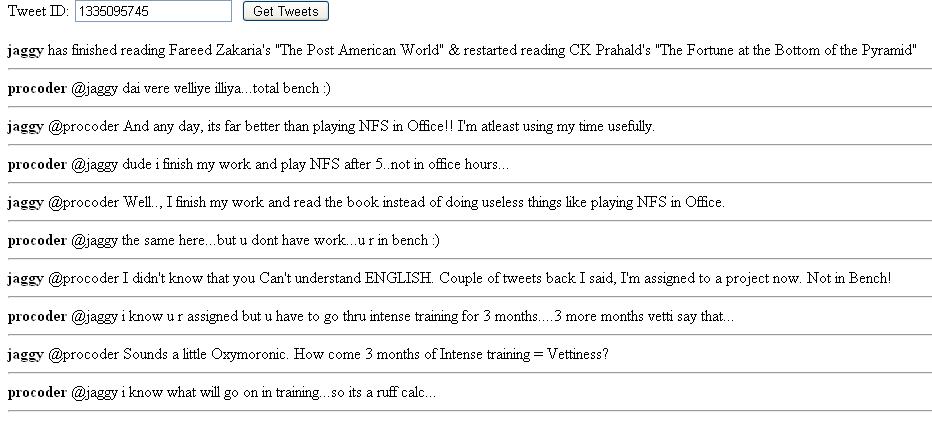 Here's the next conversation featuring @lone_observer, @82kg and @adapaavi. In this one, @82kg is teased by @adapaavi after a seemingly *innocent* tweet from @82kg. The first tweet from this thread is missing because @Shillika's account no longer exists. But anyway, check out the conversation below. Click on the image to view the full conversation.

And then, this awesome discussion on "cum" and "come" between @82kg and @yuvipanda. This conversation was awesome as well. Lol.

Last but not the least, here's our @procoder getting ragged by myself and @azaxacavabanama based on his college antics few years ago 🙂 … Nostalgia kicked in!

Hope you enjoyed the conversations above 🙂 . If you wish you generate a conversation like this, its pretty simple. Wait for the conversation to get over. Then obtain the tweet's number from the permalink of the last tweet in the conversation. This is better shown in the tool's page itself. Once the conversation is generated, post the conversation's link to your twitter account.
All in all, this is a pretty basic tool. If you want any feature to be added, let me know in the comments.
Ever since Gmail launched its Gmail Lab, I have been its fan. Some of its features are so awesome I use them day in and day out. Mentioned below are my favourite lab features:
1. Go to Label
If I were asked to pick one best lab feature from all of them, this would be it. I have set up filters extensively to mark labels to most of my emails. I'm also a keyboard shortcut junkie & expect web apps to have keyboard shortcuts. Retrieving emails based on a given label had never been this easier. Just type 'g' followed by 'l'. A small dialog opens and offers suggestions as you type the label names. This is an awesome feature that saves loads of scrolling and clicking.
This is an Excellent lab feature that was announced yesterday. I have enabled it and searching mail using its operators has been made very easy. This also offers suggestions from your contacts as you type. For each letter that you type, if there's an available search operator, it lists that as well; neatly separating the operators from the contacts with a black line.
3. Tasks
Less is more. This tasks features offers very little features, almost mimicking it to a paper to-do list. Just list the tasks and strike them as you are done with it. There are of course some advanced features tucked in. But they don't appear at first sight. This is a well executed Labs Feature. There are times when you do not need a full blown task manager & this feature comes in handy. I hope they bring this feature to their gmail mobile app.
4. Youtube, Picasa, Flickr Previews
Recently, I have been trekking/touring a lot. People from the trekking gang send emails with links to Picasa/Flickr albums. They also add youtube video links to the email because there's no way to actually embed a video inside an email. With this labs feature, I'm able to enjoy all the related photos/videos in one place. Really cool.
5. Quick Links
This is one awesome feature. Many months ago, I posted a question on a mailing list asking for suggestions for buying wireless routers. After a week since the discussion, I was searching high and low for that email but couldn't find it. Lots of people had given valuable suggestions and how can I lose them all? As soon as I found the email, I activated this quick links feature and clicked on "Add Quick Link" button in its dialog box. Voila! Now I can reach this email directly with a mouse click. 
There are also times when I search for "in:inbox is:unread". This search operator retrieves all mails in your inbox that have not been read yet. I didn't want to type this operator every time to check for unread messages that are buried somewhere. I just added a Quick Link for this operator and now its just a click away. Happy times!
What are your favourite Gmail Lab features? Let me know in the comments.