I had a left a few important files on my USB drive last weekend and was looking for the drive everywhere; but couldn't find it. Suddenly, I remembered that it was in one of the trousers worn over the weekend. But then, that trouser was completely washed twice, dried and even ironed as of now. Still not sure as to whether the USB drive will be present, I checked the pockets of the trouser and voila! It was there.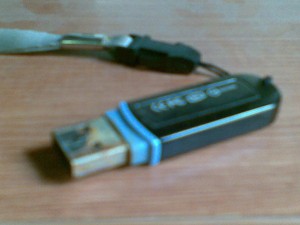 The connector looked like it had got rusted. But not sure as to whether to use this, I connected it to this very computer and the blue LED started blinking 😀 . The drive was still functional. Amazing! It survived two rounds of washing, rinsing, drying and then ironing. It is a 1GB Transcend drive that I purchased about one and half years back.
Nice USB stick! Nice Company!