It all started about 6 days ago, when Arvindh (my Kalari buddy) sent a message asking whether we can visit Alamparai Fort on the ECR on 15th Feb. Paramesh and myself were excited to hear about this idea. Driving on ECR is always fun. Imagine starting the day as early as 4 AM. That would be fun! So, on 15th Feb, the three of us, Arvindh, Paramesh and myself met on the awesome Old Mahabalipuram Road (now known as Rajiv Gandhi Salai or the IT Highway). We started the ride at about 6 AM. It was still dark, considering the fact that it was winter. We drove until Sholinganallur and took the left turn to enter ECR. The whole of IT Highway was flawless, wide and very smooth. It had some advantages:
No unwary speed breakers.
Lanes were marked clearly.
Bright lighting and sign boards to show the way.
All this meant that our ride would be very safe and enjoyable if we followed them & we did! 🙂 Barren lands were covered by soft white mist & passing through them sent a chill through us.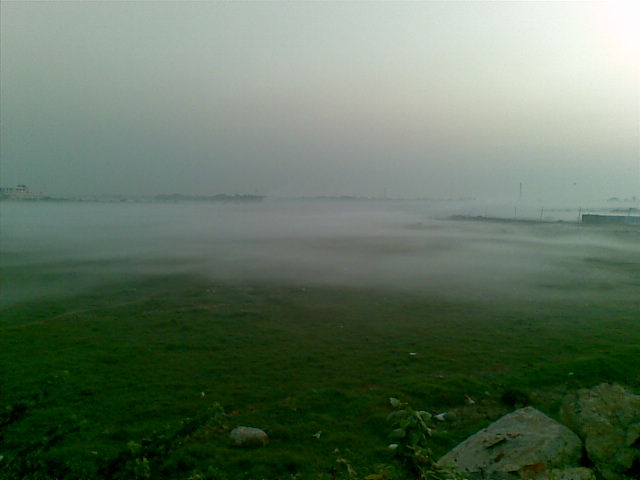 Soon after, we crossed into ECR and drove consistently at 90 kmph. The Sun appeared and graced us with his generous morning rays. We caught a few of them on our imperfect cameras and headed to Mahabalipuram for a well-deserved breakfast. After breakfast, it was a continuous 1 hour drive for about 50 kms to Alamparai Fort. On ECR, to your left, you will see a sign board like this: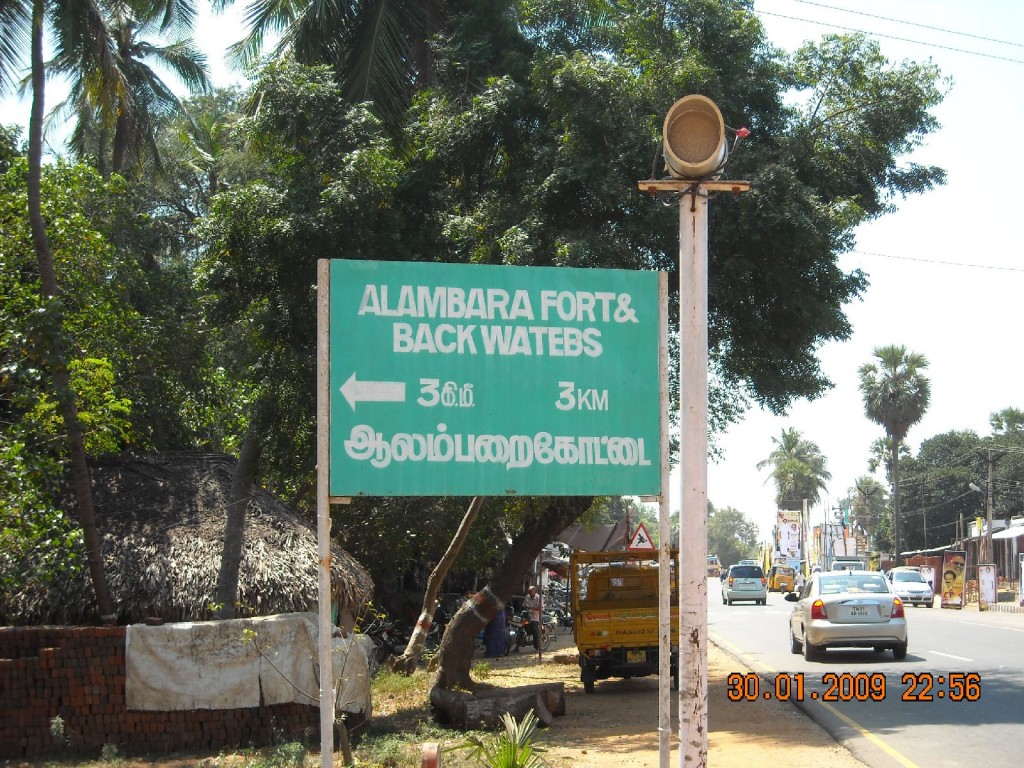 Take the immediate left after this sign board and keep driving on until you see another direction sign board on a black board. We went ROTFL after seeing that 🙂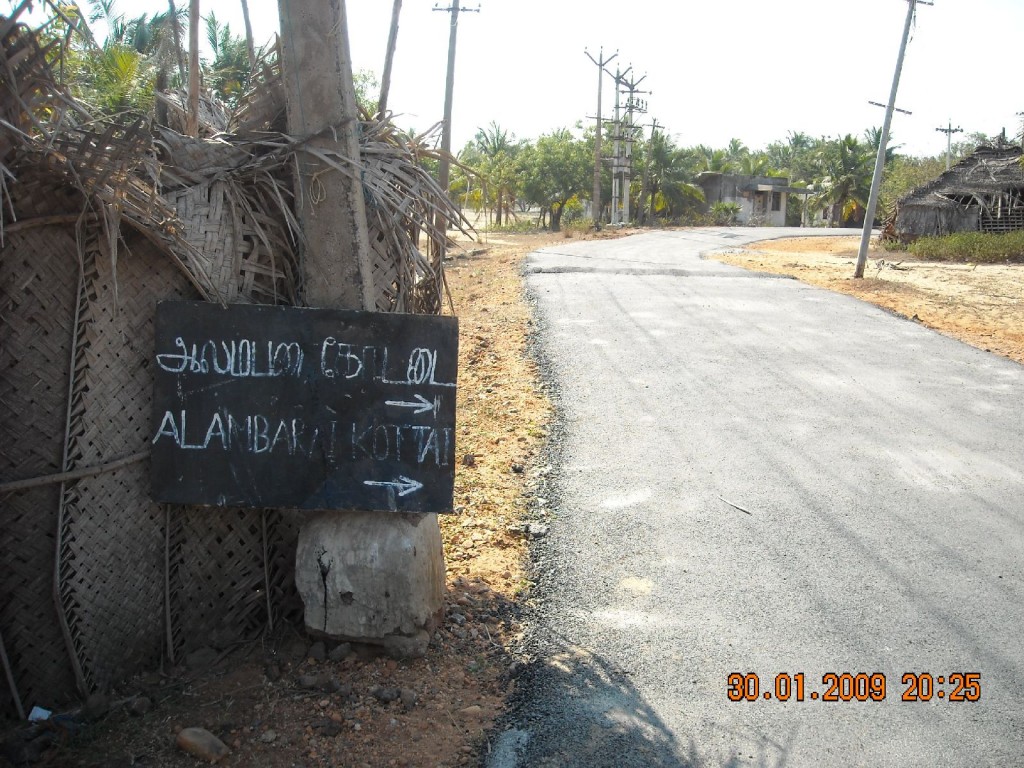 This road ends at the fort & to the left is a beautiful beach. There are lots of fishing boats here. Most parts of the beach is busy in mornings and slowly the population dwindles as the day winds on. By now, our Sun was shining brightly over the horizon. The sand was pure "white" in colour. 
The Fort
History says that this fort was built by the Mughals during the 17th century. More details about the history can be had from the snap below.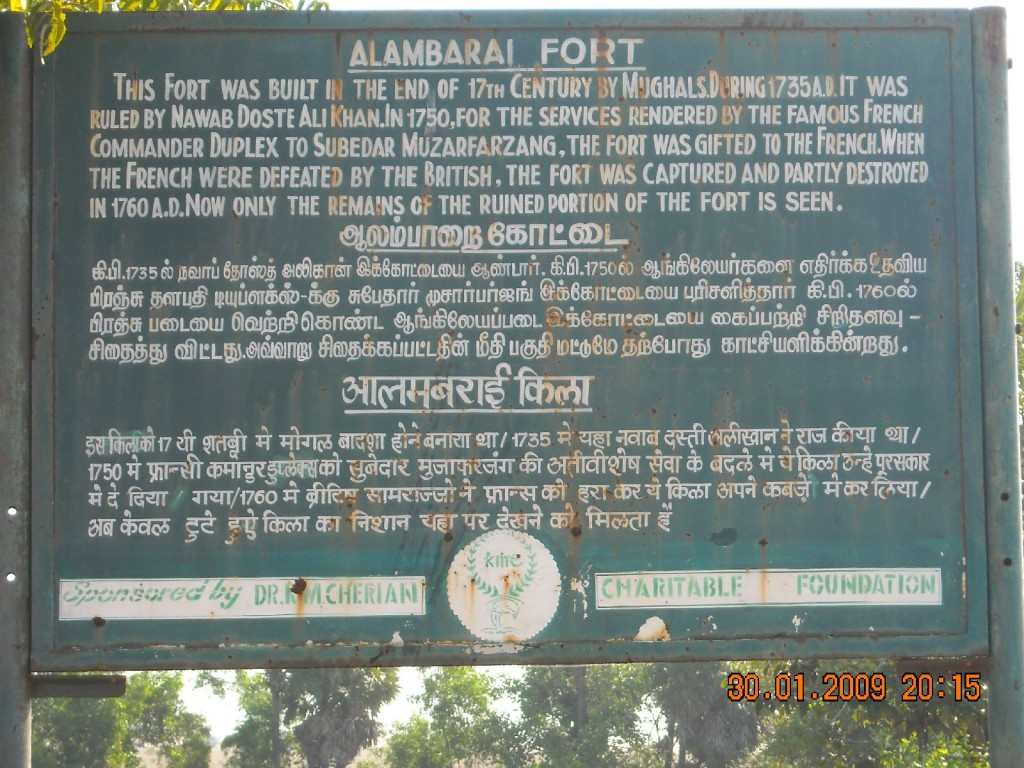 Most parts of the fort got washed during the 2004 Tsunami. What remains here now is just a fraction of what it used to be before. Local folks said that almost all of the fort got buried in the sands during the tsunami. Inside the fort, there is only an old Islamic Dargah, leaving a reminder of the once famous and majestic Fort. Weeds were growing in many places. During nights, I guess the whole scene will present a eerie sight 🙂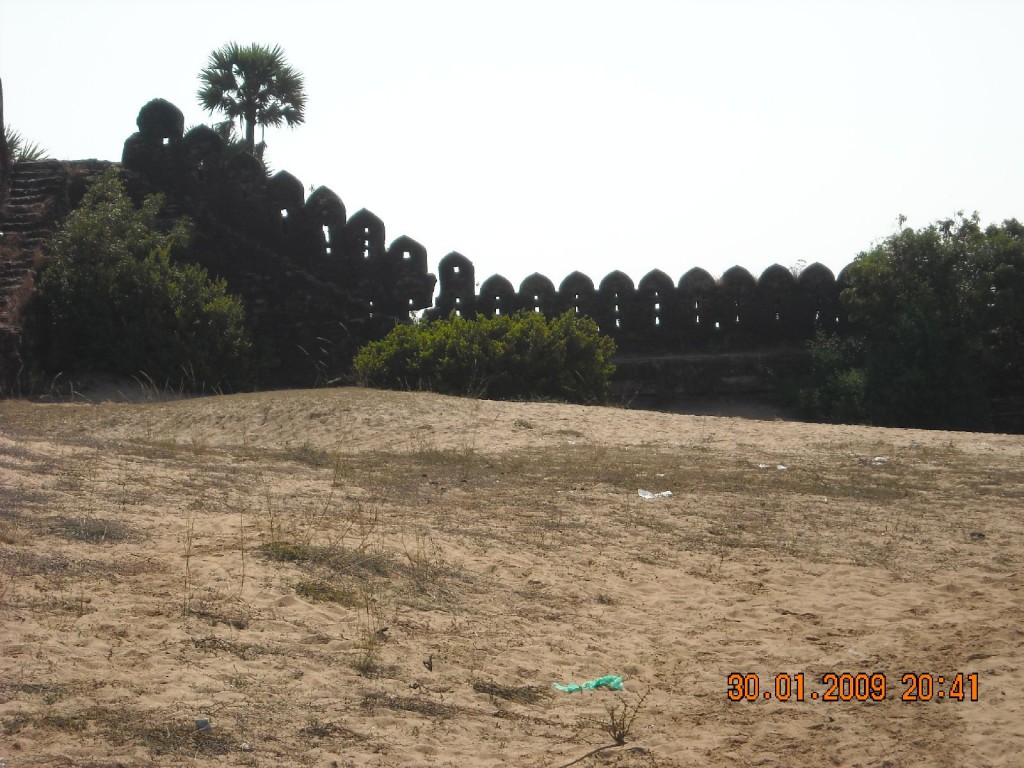 Part of the perimeter of the Fort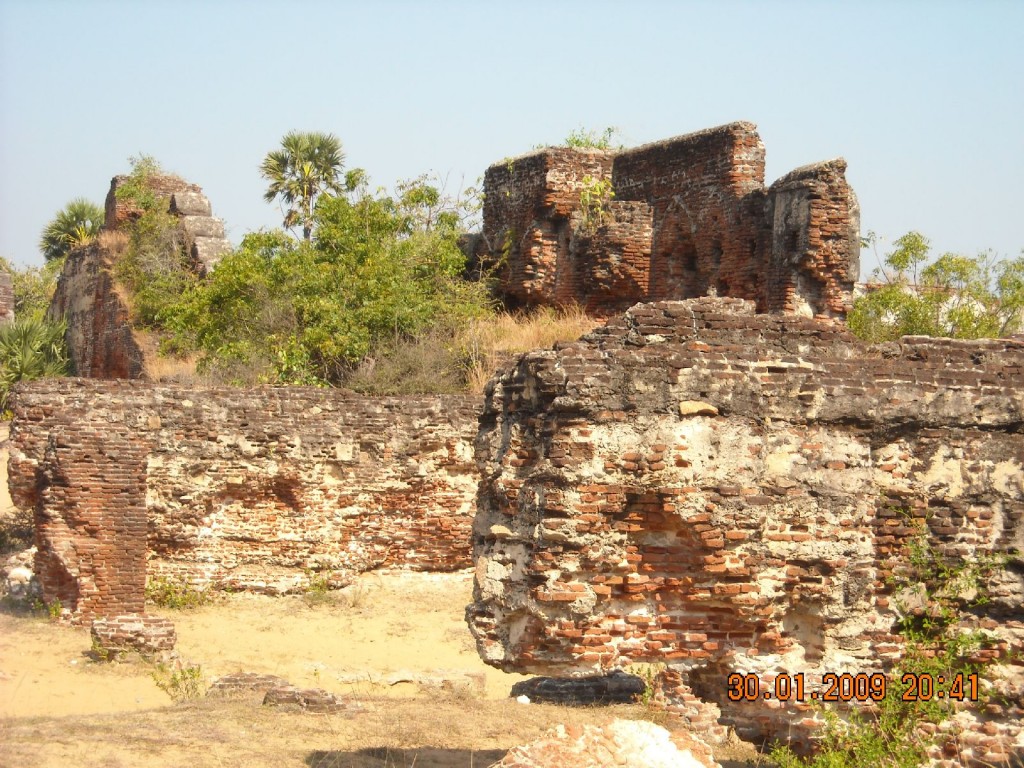 Broken Watch Tower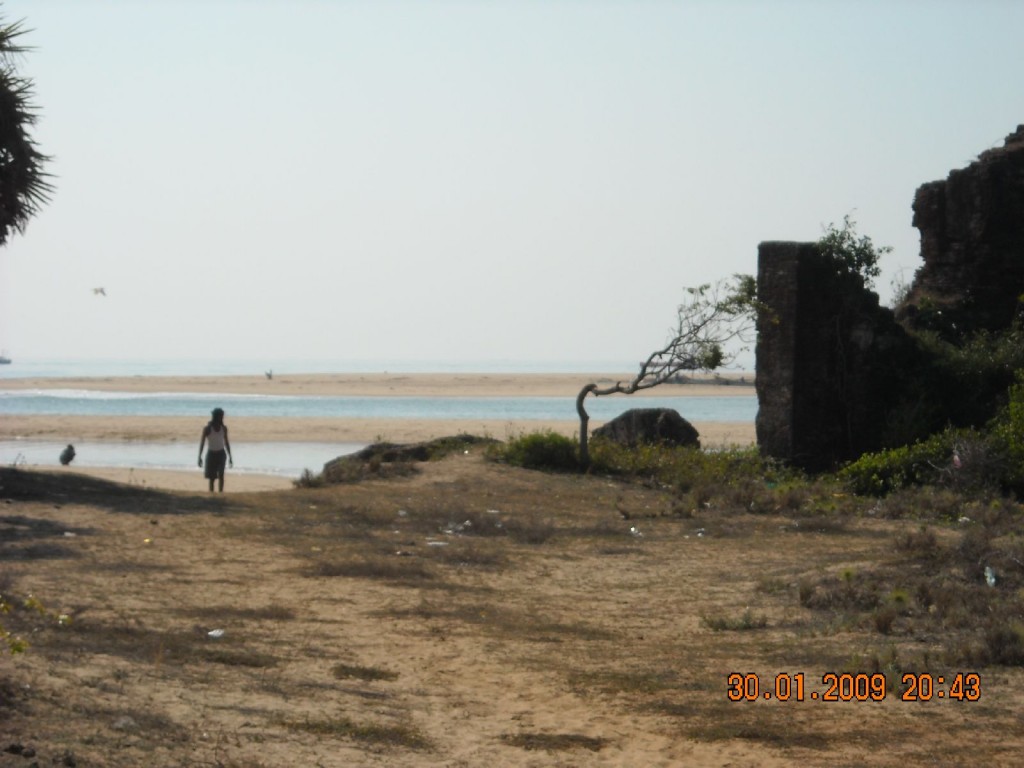 Sandy path that leads to the beach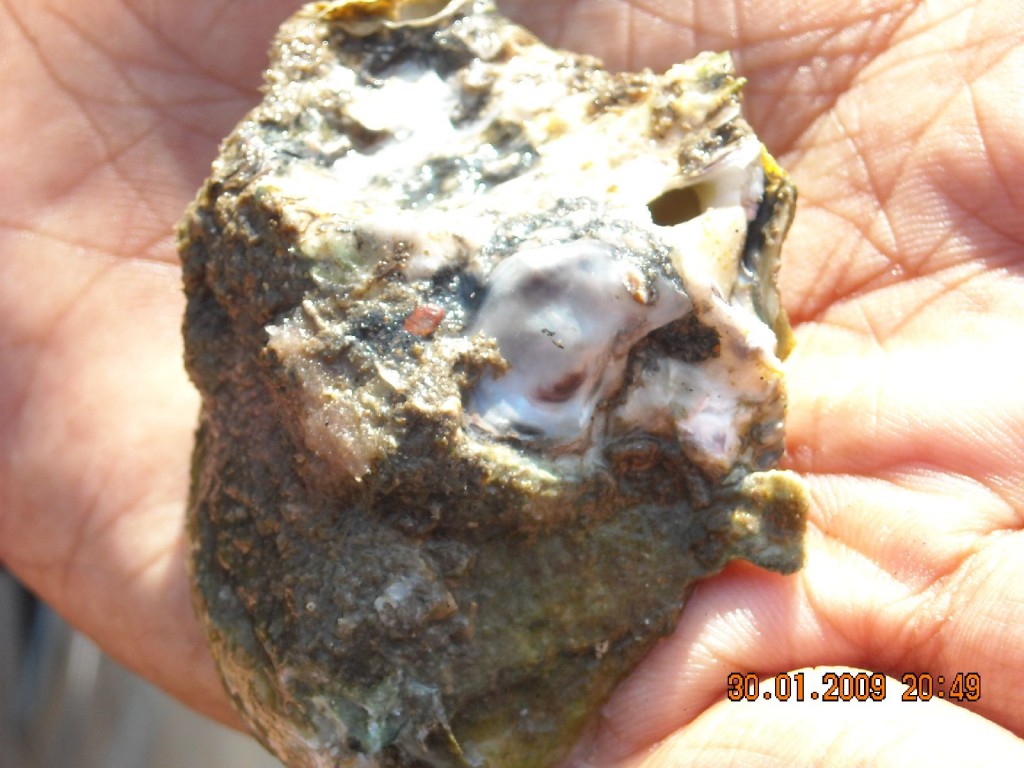 Aali – A locals' favourite dish of the snail variety
We also crossed a few superb lily ponds on the way to the Fort & took some snaps.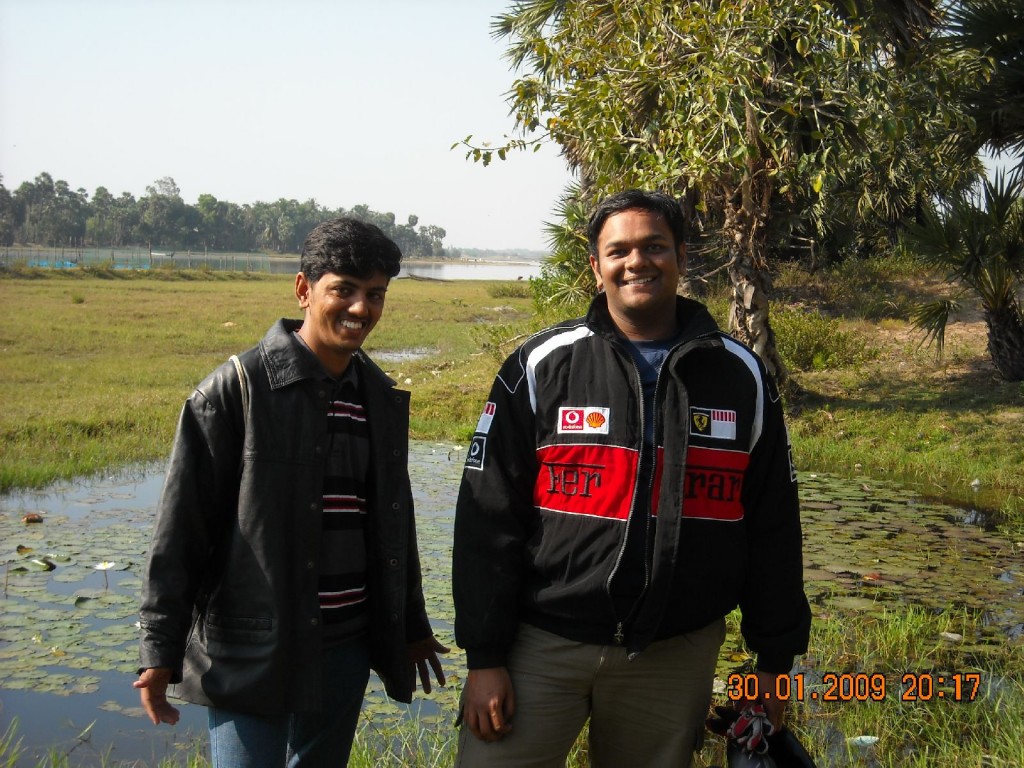 Here's me & Paramesh. Oh! Boy, I'm so smart 😛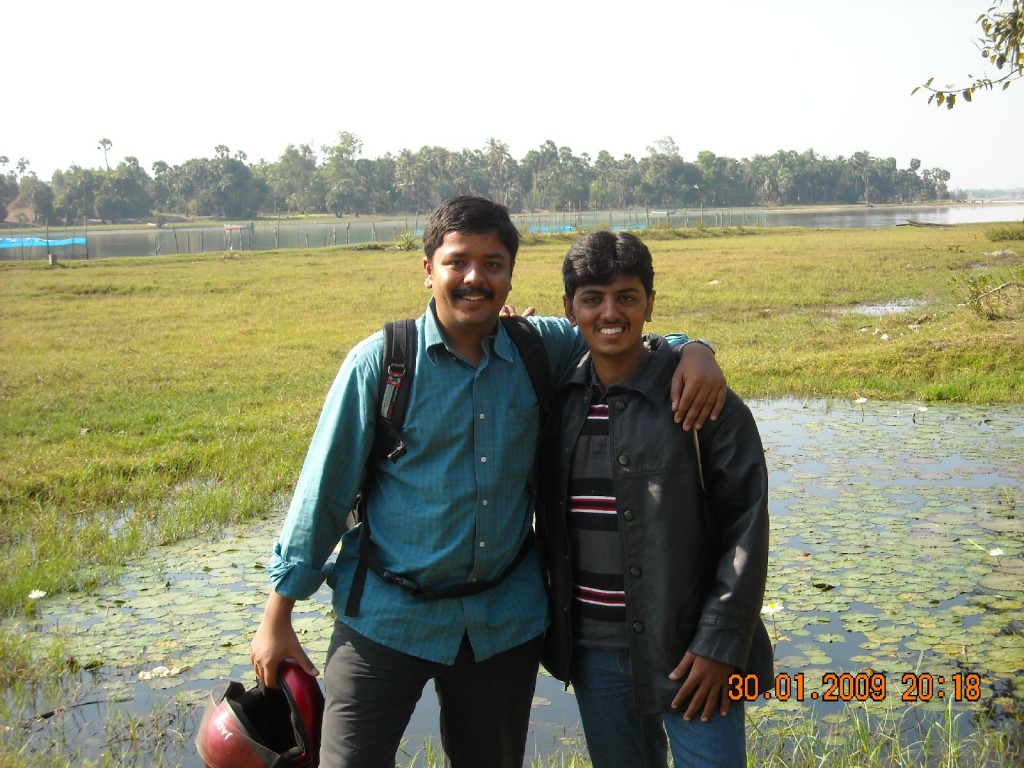 That's Arvindh & myself.
The Adventure
Following is by far the best part of the whole morning. We talked to a few fishermen here & they said they would take us for a ride in the deep sea. They warned us to be cautious on the boat because it obviously doesn't have any railings etc. It was a small fishing boat & the smell of freshly caught fish was wafting through the air. They had just emptied the nets & put them back on the boat for the next ride into the sea. Few other guys who came to the beach also joined us. A rope was tied around the plate on the side of the motor of the boat. Then four of us pulled it together. The motor came to life. My heart started throbbing with excitement. I'm sure Arvindh must have had the same feeling because he was all smiles. Paramesh for some crazy reason didn't join the boat ride.
There were lots of small islands of sand on the sea. It was like, "land-sea-land-sea-land-full sea". Hope you get the idea. The boat chugged along the curves of the small islands and before long we were on the edge of the land, looking into the big blue sea 😀 . Words can't do justice to the excitement we were experiencing. Adrenalin was in full flow.
As we were talking and making fun of each other, a huge wave started making its way towards our small boat. The wave was high enough that we couldn't see the waters behind the wave! This was the moment we were waiting for. The fisherman eased the boat on to the wave. The boat's angle was now about 30 degrees to the water level. Within seconds, the wave lifted the boat very easily! as if it were playing with us … and then it dropped us on the water. For some unknown seconds we were flying 🙂 . The boat landed with a huge THUD!!! on the water and made a HUGE!!! splash, salty water sprinkling on us.
This repeated for about 7 more times. The waves were making us dance to its tunes & boy … we did dance! Totally in love with Mother Nature. Then the waves eased and the sea became calm. The fisherman told us that deep seas doesn't have much waves & they are usually calm. The water was crystal clear but very salty. One of the accompanying dudes tied a rope to his hand and jumped in the water … IN THE BIG SEA. Then the boat started moving slowly, pulling him along the water. If only I had anticipated this ride, I would have got some spare dress & jumped in too.
After about 45 minutes, we turned back to the land, negotiating the waves again as we were approaching the land. This was one of the best moments of my life until now. I just cannot forget it! Nor can Arvindh. Here are some snaps for you to relish.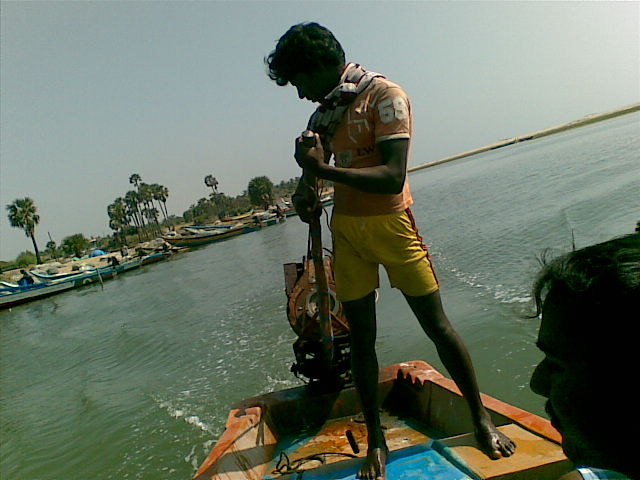 The fisherman who drove the boat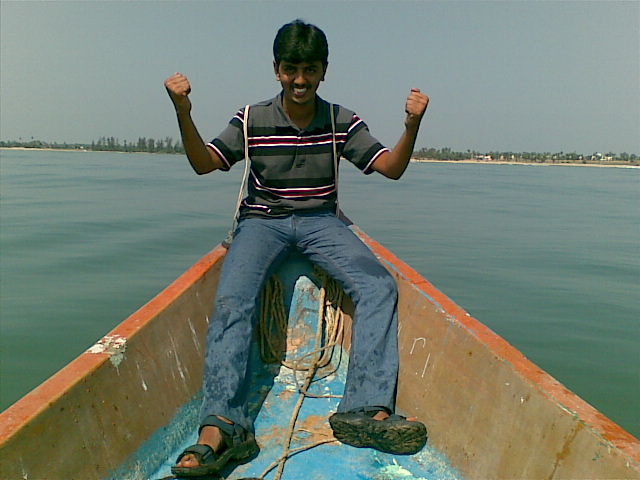 Me – sitting on boat's edge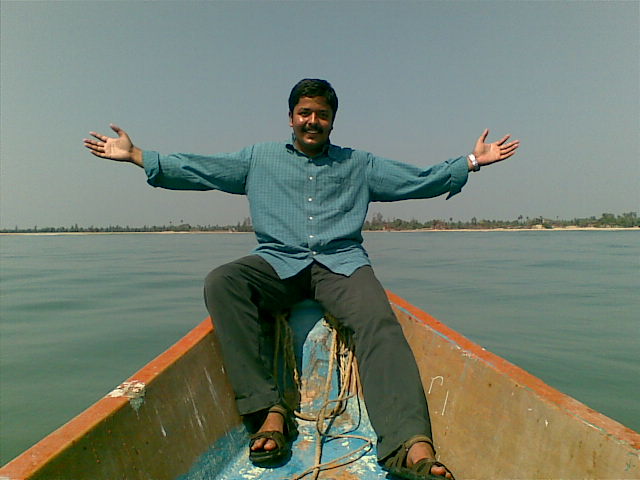 Arvindh – posing on boat's edge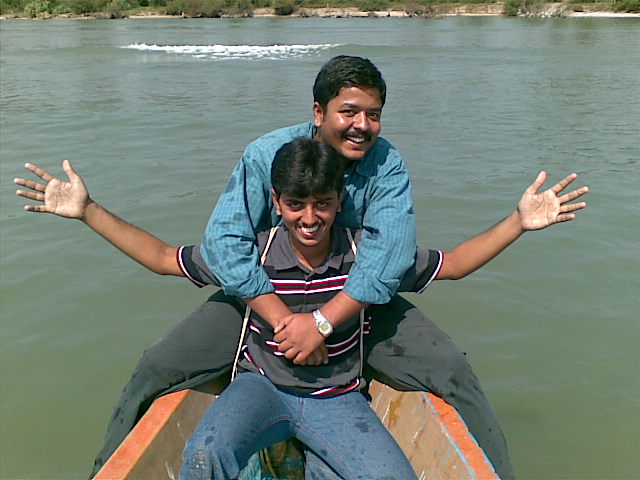 Both of us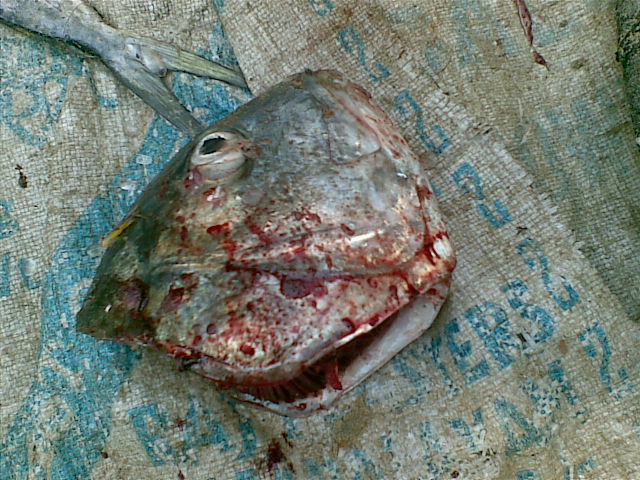 Fish – dissected – Front View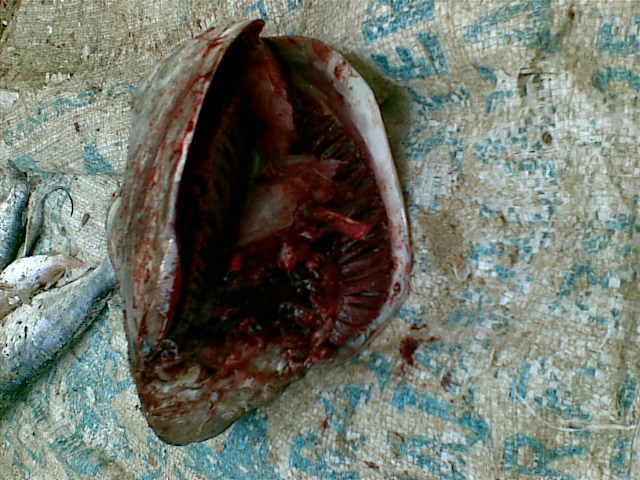 Fish – dissected – Side View
The Ride Back
We reached Mahabalipuram in about 45 minutes. From there we took ECR until Kelambakkam and then drove to Chennai on the awesome IT Highway a.k.a Old Mahabalipuram Road a.k.a Rajiv Gandhi Salai. Paramesh is coming up with a guest post about the OMR and some driving lessons. I will put that up in a few days here. We reached Chennai by 2 PM.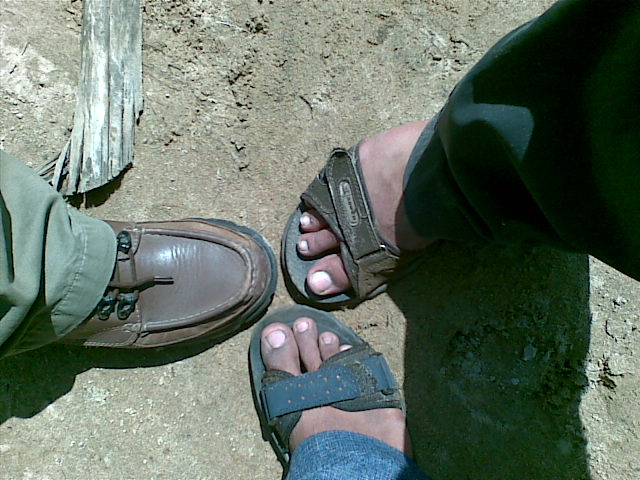 All in all, this was an awesome half a day spent very well! Loved it!
Feb 8, 2009 was a good day 🙂 About 40 of us from Chennai drove to Tirupathi & then went to Tirumala by foot. This trip was organized by Chennai Trekkers Club. All of us assembled at Koyembedu at around 4.45 AM in morning. After a few minutes of roll calling & fixing, we started our drive to Tirupathi in 4 cars and 4 bikes. It wasn't very cold in Chennai. But as we crossed the border into Andhra Pradesh on NH5, the chill started hitting. As always, NH5 is an awesome road. Road is very smooth that you don't want to drive at anything less than 80kmph. Soon after the check post, we took the turn towards SH51 that goes to Uthukotai & Periyapalayam. This is the same route that we took to Kone Falls few months back.
Few minutes into the SH51 & we knew what we had ahead of us. Road condition was bad. Very bad. There were mini craters everywhere that you have to carefully bend your bike to avoid them, sometimes facing the wrath of the vehicles coming in the opposite direction. One particular 25km stretch from Uthukotai town to Periyapalayam had 31 huge craters & about 12 minor craters that driving on it was like going on a roller coaster 🙂 . I just couldn't believe that it was the same road we took to Kone Falls few months ago. Now it had been battered & it was badly in need of repair.
After Periyapalayam, the roads became sort of ok. Ten kms after Kone Falls, we crossed into the Andhra town of Puthur. Road from here to Tirupathi was good, except for one major glitch. The road was supposed to be a highway & there were speed breakers sprinkled at random points. They weren't even coloured differently. At one point, we were driving at 90kmph speed & seeing a speed breaker barely 5m ahead, I breaked hard. Thank goodness we didn't fall off the bike. Man… what a chill it spent up the spine! As soon as we landed after the speed breaker, the bike refused to listen to the accelerator 🙂 so we reduced our speed & then slowly increased it again … only to find another speed breaker few kms ahead! This time we were able to manage properly.
Reached Tirupathi
The whole gang reached Tirupathi safely after a 3.5 hour drive. Riding at a constant 90 kmph on fairly good roads, with chilly winds kissing your body & bumping along craters had its toll. All our bikers' arms & legs were shivering for close to half hour. The chill in our bodies left us only after we emptied our tanks. We had breakfast at Tirupathi & then drove to Alipiri. Alipiri is the base of the hill from where vehicles can go to Tirumala (the abode of Lord Venkateshwara). We waited for a few minutes here for some Tirupathi folks to join us.
We then proceeded towards Srinivasa Mangapuram from where our trek was to begin. We reached the base camp, which was the entrance to the TTD (Tirupathi Tirumala Devasthanam) forest area. We parked our bikes & cars, and had our water bottles, glucose & snacks distributed. We started "trekking".
Climbing Up
Few minutes into our route, we came to know that there were 2388 steps to reach the top of the hill into Tirumala. These steps were quite steep at many points. At certain points, climbing at the center of the steps proved to be a bit difficult because they were constructed at certain angles. Nevertheless, we climbed up and reached the top in about 1.5 hours. The alternate route that walkers take at Alipiri is a very long one and takes 4.5 hours to reach the top. This one is shorter but steeper.
Along the way, we made good friends with lot of people from the gang. Notably, Naveen & Praveen, the brother duo who had passed out of RMK College School of Engineering. We had absolute fun ragging each other 🙂 . Then we made new friends with Jean, Arun, Delphine & Maria, who had come to India from France (Paris) for internship. It was fun getting to know them. Its always great to remember someone of the past. One guy from the BlogCamp team named Karthik had joined us for the trek with his friend Vetri. We chuckled about the "How do you feel now" story which most blog-campers of Chennai know about 😀
At one of the steep turning points during the climb up, all of us took a group photo.
Six of the gang deviated from the original route and were following a rocky path for a brief period 🙂 Hope they had fun doing that.
Reached Tirumala … Yay!
We had pears to celebrate the victorious walk up the hill 🙂 lol. After everyone assembled here, we had lunch & proceeded towards Akasha Ganga. There was a surprise at this place. Lot of hawkers were selling "instant photos" of frame-able size. They had Dell laptops which were connected to colour printers. The overall circuit looked like this — Exide Battery (cars, lorries – big ones) -> junction point -> laptop -> printer -> digital cam. Whoa! That's a cool use of technology. Isn't it?
Myself and a few guys climbed down to reach the small water falls. We reached its top and took some pics. Unfortunately, those pics got deleted from my mobile because the card got corrupted. Damn. There were about 110 photos on the mobile & everything vapourised into thin air. Here are two of them from Vikram's camera.
That was fun 🙂 There was algae all around, so we had to tread a bit carefully. After Akasha Ganga, we visited Papavinasam. Jean applied Srichoornam to his forehead & was looking like a monk (albeit with his shaved head). Lol. That was something I least expected.
After Papavisanam, we started climbing down the same way we had come to Tirumala & reached the basecamp by 6.30PM. After settling the accounts & stuff, we started back to home sweet home.
Pictures Courtesy …
Vikram and Rajasekar. Thanks a lot photographers 🙂
Some Improvements
As I had found out from this picnic, my stamina has improved a lot. I was able to climb (up & down) the steps without sitting anywhere, after a visibly blown out ride. There was no body pain or anything of that sort on Monday morning. I woke up fresh to the memories of the trek with an awesome gang.
Hope you enjoyed the read! More coming soon … 2009 is exciting I should say. Heheh!